Do you know what the Clean Slate Plan is? Pay close attention, this may be very interesting for you. This is the special program of the Ministry of Electric Power to bring all users up to date with their electricity bill. The thing is that the holders of residential and commercial accounts with consumption of less than 50 kWh who have an accumulated debt of several months or years can register and zero out by paying a single amount. In this way, it is sought that people begin to pay their electricity bill regularly and thus resources can be raised to strengthen the National Electric System.
The news is that this plan, which was activated as a pilot in Zulia state, will be extended to five entities in the country as of April: Falcón, Lara, Trujillo, Mérida and Táchira. It will later be implemented in the Capital, Central East and Guayana regions, Minister Néstor Reverol reported.
The 21 prisoners of corruption
Other important information came out on Saturday with a press conference given by Attorney General Tarek William Saab about the corrupt plot discovered 10 days ago. Saab explained that so far 11 officials and 10 businessmen are in jail. Find out who each one is here. The investigation is still in progress, so further arrests are not ruled out.
business stopped
The list of detainees released by prosecutor Tarek W. Saab had immediate consequences. Yesterday the Colombian gas trading company, Integral Energy Plus SAS, reported the decision to stop the project to import gas from Venezuela. It turns out that one of the prisoners, Bernardo Arosio, is a shareholder of the company Prodata Energy CA, which was authorized by Caracas to export natural gas to Colombia in November 2022. So the agreement, which had not yet finalized any transaction, remains in suspended until further notice.
the rabbit fell
Surely you found out, because it was a trend on all social networks since Friday, that the criminal Carlos Enrique Gómez Rodríguez, alias El Conejo, fell dead last Thursday during an operation by the Bolivarian National Police in Irapa, Sucre state. This subject was the leader of a gang that plagued the states of Aragua, Miranda and Carabobo and had its operations center in Las Tejerías.
According to account in enough detail in this note our colleague Eligio RojasConejo was first kicked out of Las Tejerías and the guy "fled to Monte Oscuro, between the Henry Pittier and Macarao national parks where he also had another hideout." He settled in Chuao and the police fell on him there, so he grabbed a boat and escaped by sea with 35 henchmen to Irapa, in Sucre state. There he found himself in a small house on a mountain, but the police who were on his heels also fell on him. In the confrontation in that place he fell dead.
The Minister of Interior Relations, Remigio Ceballos, informed on Friday that the balance of the operations carried out against the band of the Rabbit is the following: capture of 36 criminals, seizure of nine vehicles, 41 portable radios, 17 mobile phones, 14 motorcycles, as well as firearms, chargers and war material, including explosives and ammunition.
False positive
The news that rolled on Saturday that President Nicolás Maduro had been diagnosed with covid-19 also drew attention. In fact, that was the case, and the president suspended his trip to the Dominican Republic to participate in the Ibero-American Summit of Heads of State and Government. But then we learned that the President does not have covid... What happened is that a test, carried out on Friday, came back positive, but then they carried out two more tests to confirm and they came back negative. This is how Vice President Delcy Rodríguez explained it:
Contagion
Yesterday, 4 new cases of covid-19 were reported in Venezuela, with no deaths.
Total infections: 552.336
Recovered patients: 546.200 (99%)
Active cases: 282
Total deaths: 5.854
Exchange rate
The Central Bank of Venezuela reported that the exchange tables on Friday showed an average of 24,4 bolivars per dollar. Remember that this is the only rate valid for any transaction today.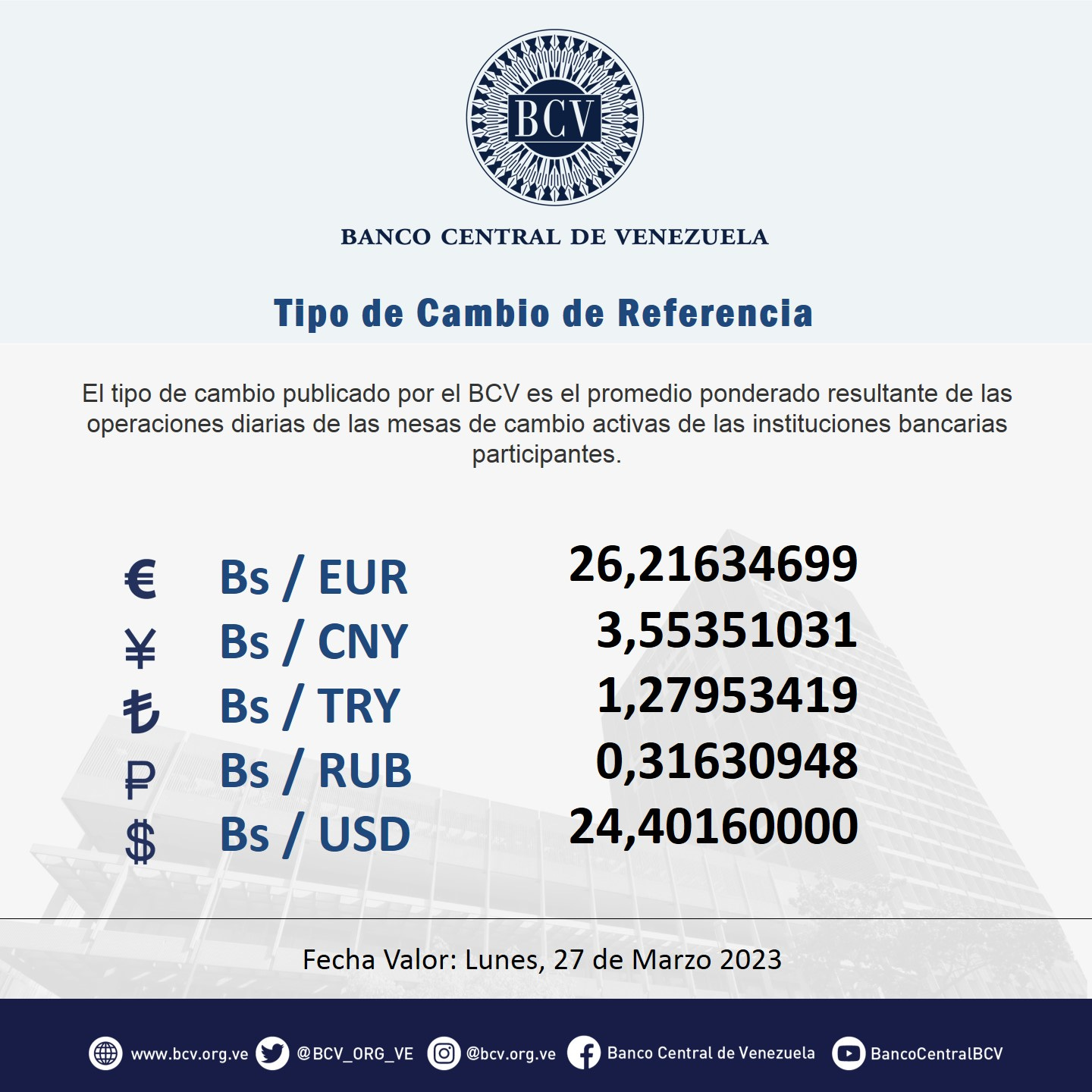 riots in israel
yesterday was a trend the outbreak of street protests against the Netanyahu government in the most important cities of the territory occupied by the State of Israel. The Israelis demonstrated against the judicial reform promoted by Netanyahu that seeks to annul the Judiciary, giving more power to the parliament, controlled by his party. Several high-level officials, including the Defense Minister and the consul in New York, made public their disagreement with Netanyahu's project, raising the levels of political instability. This will bring tail, so pending.
Elections in Cuba
The other important international news from yesterday comes with the general elections in Cuba. The Cubans went out to vote to elect the members of the National Assembly of Popular Power, which in turn will have the power to elect the President and Vice President of the Republic. More than 70% of the electoral roll participated in yesterday's day according to the electoral body.
We leave it here for today. Remember that to keep up to date, all day long, all you have to do is check latestnews.com.ve. We read again tomorrow.