The members of the Presidential Commission for the recovery and preservation of the University City of Caracas, carried out this Saturday an inspection of the works that are being carried out at the Central University of Venezuela (UCV) and verified the favorable change to dignify this Cultural Heritage of the Humanity, in favor of university students, Caracas and Venezuelans in general.
The Executive Vice President of the Republic, Delcy Rodríguez, together with the Ministry of Popular Power for University Education, César Trómpiz and authorities from other ministries and institutions that work on the university campus, walked until late at night the facilities that are being renovated .
The senior official informed that 4 sports fields are already remodeled, 16 failures detected in drinking water pipe systems have been repaired, more than 200 lights were placed in various accesses, and 90% of the weeding of green areas has been completed, which they were in deplorable condition, evidencing an unacceptable neglect accumulated over the years.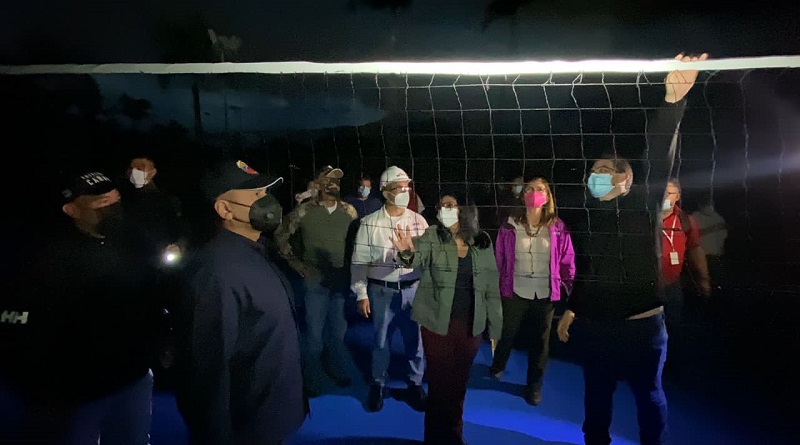 On the other hand, it was learned that this Monday, work will begin to replace the asphalt layer of the entire campus road, to improve vehicular access in all instances of the University City.
Likewise, the Commission met with the workers who are beginning the repair and rehabilitation of the University Dining Hall, with the waterproofing of the ceilings, the cleaning and remodeling of the kitchen, as well as the common spaces for students and the workers themselves. university community
He pointed out that the services of architects and engineers graduated from the UCV have been hired, so that they contribute their knowledge and sensitivity at work to make the maximum house of studies in Venezuela shine.
"The workers are making progress in this work so that when the students return in October, they will have a decent university," said the Executive Vice President.
President Nicolás Maduro, is receiving daily the progress report of these works, which are being carried out by the ministries of Public Works, Culture, University Education, Barrio Adentro Tricolor, together with Venezuela Bella and other institutions and organizations.
On the other hand, the Minister of Popular Power for University Education, César Trómpiz asserted via twitter that «Together with the Vicepdta @ delcyrodríguezv, we inspect the work carried out at the UCV, so far we have rescued 4 fields, we placed 200 lights, 16 drinking water failures corrected and 90% of the university was weeded ».