The Executive Vice President of the Bolivarian Republic of Venezuela, Delcy Rodríguez, reported that in the last 24 hours 1.074 new cases and 9 deaths from Covid-19 were reported in the country, rising to 325.716 the accumulated number of infections, after 525 days of pandemic.
Through her official account of the social network twitter @delcyrodriguezv, the senior official explained that so far 311 thousand 746 patients have been recovered, which represents 96% of the registered infections, with 10.075 active cases and 3.895 the total of deceased.
Offering the customary daily balance offered by the Presidential Commission for the Control and Prevention of COVID-19, the Executive Vice President added that community cases were detected in 19 states, including Monagas (167), Anzoátegui (166); Miranda (140); Caracas (114); Lara (94); Yaracuy (70) Falcón (50), Nueva Esparta (43); Trujillo (37); Zulia (34); Aragua (33); Apure (33); Sucre (31); Tachira (18); La Guaira (16); Merida (12); Guarico (11); Barinas (4) and Delta Amacuro (1).
Monagas registered the highest number of community cases (167), with active infections in 6 municipalities such as Maturín (131); Ezequiel Zamora (20); Cedeño (13), Punceres (1), Acosta (1) and Libertador (1).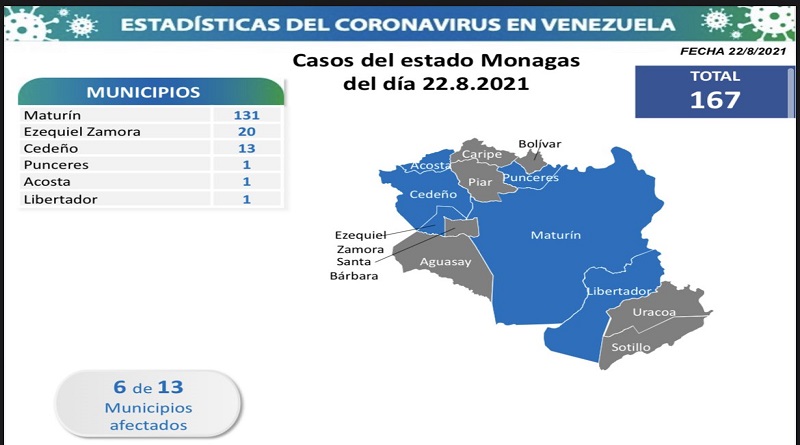 He then indicated that in the last hours 9 deaths from the virus were counted: 7 in Caracas (6 men of 78, 75, 73, 64, 62 and 64 years old and 1 woman of 61 years old); 2 in Miranda (2 women aged 68 and 58). "On behalf of President Nicolás Maduro we express our condolences to his family and friends."
Finally, he asserted that «We cannot fail to comply with the prevention and care measures for the Delta variant that is already in the country. To take care of us [email protected]! ».