The Executive Vice President of the Republic, Delcy Rodríguez, reported that the Miranda state reported for the third consecutive day the highest number of infections by covid-19, when 262 new cases were detected in the last 24 hours; while at the national level there are 822 people sick from the virus throughout the national territory.
By offering the customary daily balance offered by the Presidential Commission for the Control and Prevention of COVID-19, through his account on the social network Twitter @delcyrodriguezv, Miranda presented active cases in 14 of his 21 municipalities, such as: Sucre (73), Lander (47), Urdaneta (36), Independencia (26), Cristóbal Rojas (25), Plaza (12), Zamora (12), Simón Bolívar (10), Guaicaipuro (7), Baruta (4 ), Chacao (3), Carrizal (2), Paz Castillo (2) and Los Salias (1).
The high official explained that the accumulated number of cases rises to 355.061 cases after 553 days of the pandemic, with 339.081 (95%) recovered patients; 11.679 active cases, of which 7.452 are in hospitals, 3.821 in Comprehensive Diagnostic Centers and 406 in private clinics.
Next, the Executive Vice President of the Republic pointed out that infections were detected in 15 states, among which stand out: Miranda (262), Caracas (186), Nueva Esparta (111), La Guaira (83), Lara (72), Yaracuy (48), Aragua (15), Zulia (14), Anzoátegui (7), Monagas (7), Cojedes (6), Sucre (6), Amazonas (2), Falcón (2) and Portuguesa (1).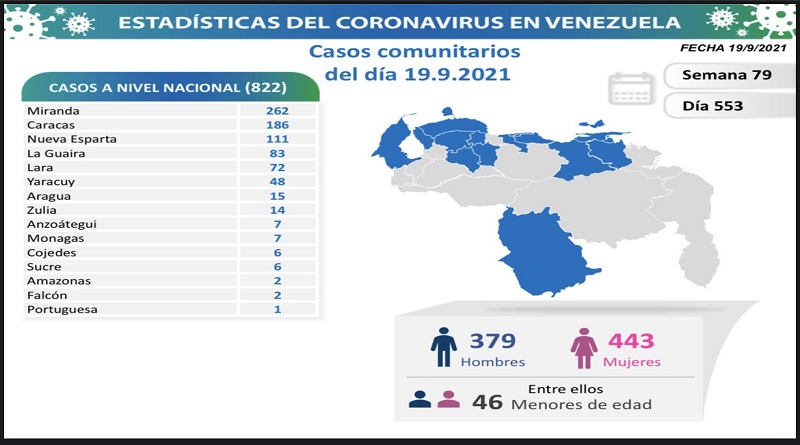 Likewise, Rodríguez affirmed that the total number of deaths was 4.301, when 10 new fatalities were registered in the last hours, as reflected in the following report by States: 5 in Caracas (1 46-year-old woman and 4 46-year-old men, 87, 81 and 75 years); 3 in Miranda (1 woman aged 58 and 2 men aged 49 and 74); 1 in Anzoátegui (1 man of 62 years) and 1 in Barinas (1 woman of 52 years). "On behalf of President Nicolás Maduro we send our deepest condolences to his family and friends."
Finally, he asserted that "this Monday, September 20, the quarantine week begins in Venezuela, 7 days of special care to continue fighting the Covid-19. As President Nicolás Maduro has said, we must trust in our 7 + 7 method and not lower our guard.