The Executive Vice President of the Republic, Delcy Rodríguez, reported that in the last 24 hours, 838 new cases of covid-19 were counted in the country, with the Miranda state reporting the highest number of community-transmitted infections; rising to 354.239 the accumulated number of people who have been infected by the virus, during 552 days of pandemic.
By providing the customary daily balance offered by the Presidential Commission for the Control and Prevention of COVID-19, the senior official, through her account on the social network Twitter @delcyrodriguezv, detailed that so far 338.231 (95%) patients have been recovered; while there are 11.717 current active cases, of which 7.439 are being treated in hospitals; 3.883 in Comprehensive Diagnostic Centers and 395 in private clinics.
Next, he said that contagions were detected in 16 states, among which stand out: Miranda (347), Caracas (238), Anzoátegui (69), Yaracuy (61), La Guaira (32), Zulia (27), Amazonas (14 ), Aragua (11), Mérida (10), Falcón (9), Lara (8), Monagas (4), Sucre (3), Bolívar (2), Barinas (2) and Portuguesa (1).
The Executive Vice President of the Republic indicated that Miranda became the entity with the most active cases with 347 infections in 16 of its 21 municipalities, such as: Sucre (83), Independencia (41), Guaicaipuro (38), Urdaneta (36) , Lander (35), Carrizal (30), Los Salías (25), Cristóbal Rojas (22), Simón Bolívar (9), Plaza (8), Buroz (5), Paz Castillo (5), Zamora (2), Andrés Bello (2), Baruta (2) and Acevedo (1).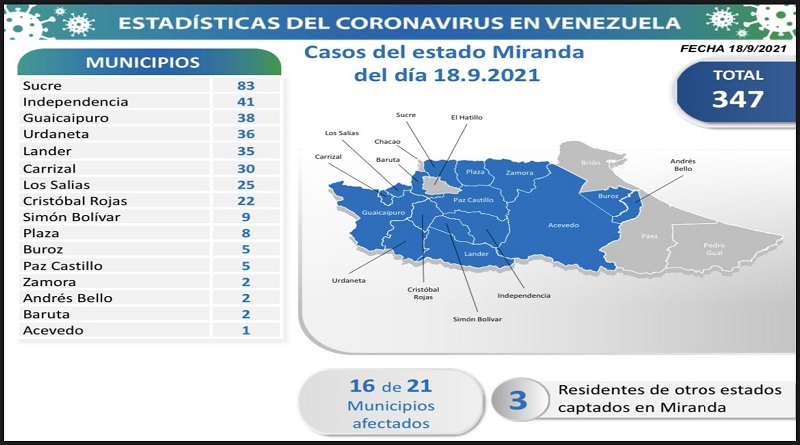 Agregó que la cantidad total de fallecidos se ubicó en 4.291, al detectarse 16 nuevos fallecidos a causa del coronavirus. de acuerdo al siguiente reporte por Estados: 6 en Miranda (4 hombres de 57, 52, 30 y 66 años y 2 mujeres de 80 y 69 años); 4 en Anzoátegui (3 mujeres de 83, 76 y 46 años y 1 hombre de 60 años); 4 en Caracas (4 hombres de 78, 46, 77 y 46 años); 1 en Apure (1 hombre de 83 años) y 1 en La Guaira (1 hombre de 56 años). «En nombre del Presidente Nicolás Maduro Moros enviamos nuestras condolencias a sus familiares y allegados»- expresó.
Finalmente, la vicepresidenta Ejecutiva de la República, Delcy Rodríguez alertó que el estado Miranda, «por segundo día consecutivo es la entidad donde se presenta la mayor cantidad de nuevos contagios», por lo que insistió en el cumplimiento de las medidas de bioseguridad como «el uso correcto del tapaboca, el distanciamiento físico y las medidas de higiene», en aras de «hacer la diferencia en esta lucha por la salud y la vida».